eLearning courses for human rights, including occupational health and safety, presented in simple language. Gamified with a focus on the essentials.
Responding to the requirements of the supply chain law, from your own factory to the direct suppliers in the Global South. Versions for different industries, cultures and of course in the national language. Audio included for users with reading difficulties.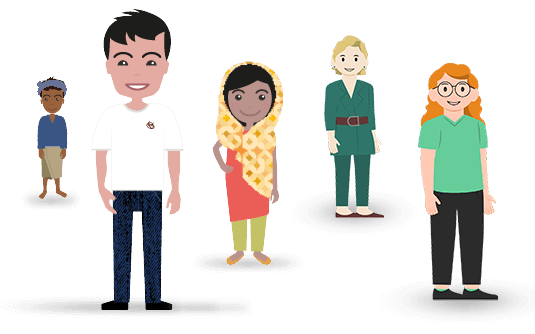 Use our gamified e-learning courses for OHS and worker engagement to increase social compliance at your suppliers!
Increase social compliance from your own processing plant and throughout your supply chain with our eLearning approach – individual, interactive, and inclusive! Sustify is a new form of eLearning solution specifically designed for production workers. We currently offer courses on fire safety, occupational health and safety (OHS) and human rights. We develop additional courses as required. The content is based on the typical non-compliance issues in production facilities and takes into account the requirements of social standards and legal regulations. We do not aspire to impart detailed academic knowledge, but to create awareness for those topics that are truly relevant in everyday work (micro-learning). The knowledge and awareness acquired in this way also forms the basis for effective grievance management. Only when employees are aware of their rights and obligations in the workplace can they decide whether they should make an official complaint or whether problems can be resolved in other ways. Opt for a gamified eLearning approach that meets the relevant legal and ESG requirements in your own company and across global supply chains.
SUSTIFY makes the difference!
Watch our short video to find out how our training works in practice from factory workers in Bangladesh, from our client Florett Textil and from our founder!
Worker training at a glance
Our learning courses are based on the ILO core conventions, OECD guidelines on multinational enterprises, SA8000, local law and support the UN SDGs (3, 4, 5,8,10, 12, und 17).
How can Sustify make your procurement more responsible?
"In order to get even more transparency in our global supply chains within the framework of the Supply Chain Act, especially with regard to compliance and social standards, we consider Sustify's eLearning courses for workers to be a very innovative and reliable solution to achieve exactly this goal."
"Sustify has created a tool that enables topics relating to social and environmental protection in the supply chain to be addressed and learned in an appealing and interactive manner and at the same time gives workers a voice. Both we and the employees in our supplying factory in China are enthusiastic."
"Sustify's digital capacity building approach gives workers a voice, empowerment and the opportunity to learn something for themselves. For us, this is exactly the right way to get to know people and create transparency and fairness for our entire supply chain. We are happy to be on this journey together with Sustify. Working with Sonja is not only uncomplicated and professional, but always exciting and fun."